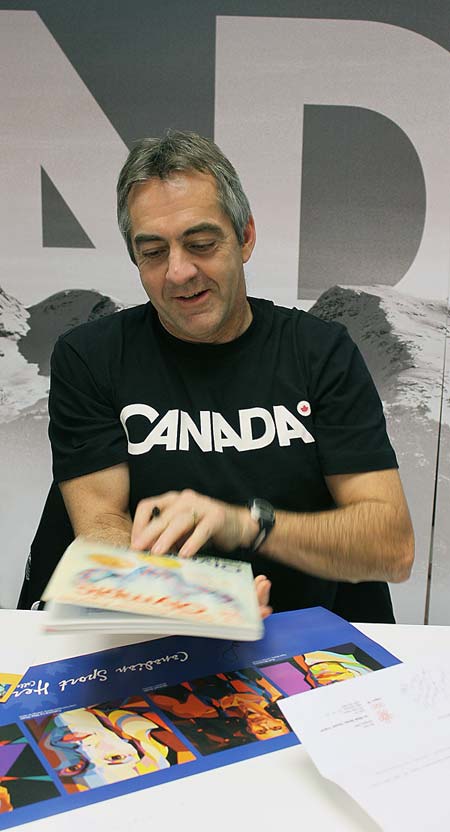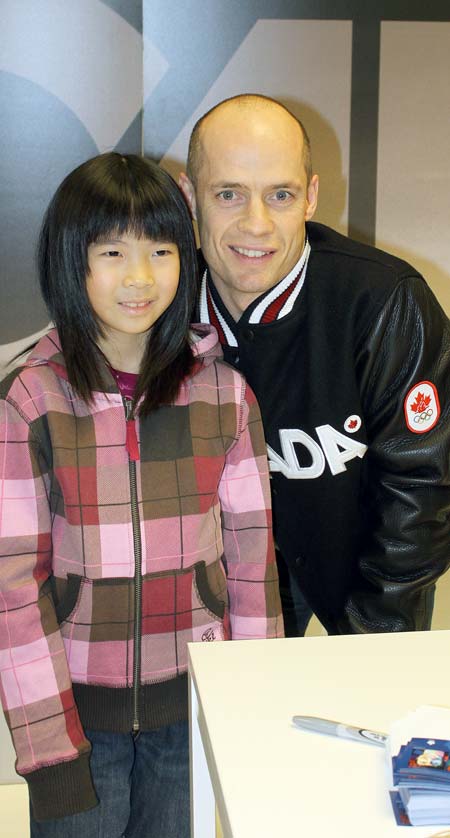 From the 1988 Calgary Winter Olympics and my involvement as a designer of the Official Program for the Calgary Olympic Committee and Sports Illustrated. On the left Gaétan Boucher, 2 gold and a silver at Sarajevo 1984 and silver at 1980 Lake Placid, on the right Kurt Browning, 4 times World Figure Skating champion and 3 times World Professional Champion, 3 times Olympian. Both were Olympians at the 1988 Winter Olympics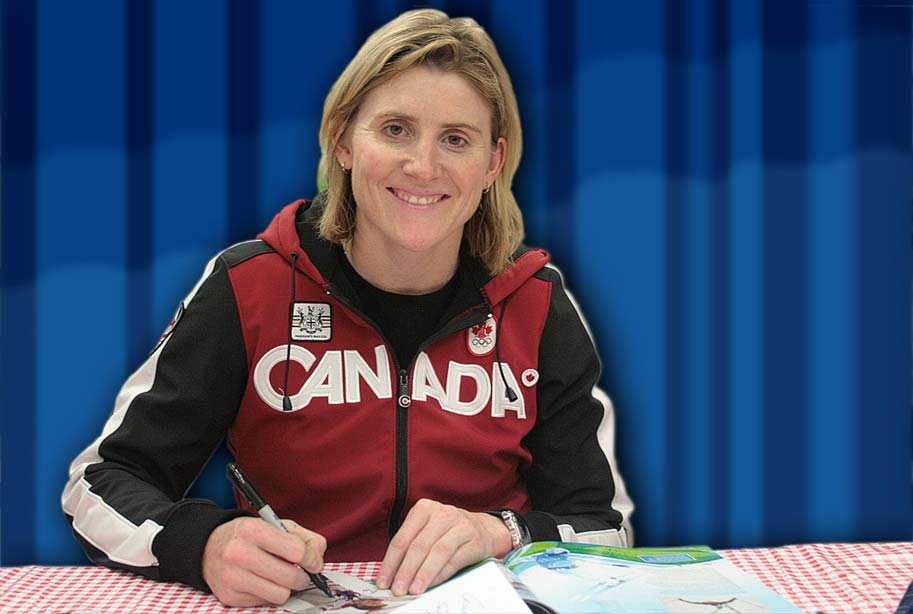 Hayley Wickenheiser (b. Shaunavon, SK), captain of Canada's 2010 Gold Medal Ice Hockey team. Previous Olympics: 1998 Olympics Nagano, Japan Silver, 2002 Salt Lake, Utah, USA Gold (MVP), 2006 Olympics Turin, Italy Gold (MVP) - Six World Championship Gold. Hayley also played on Men's Professional teams in Finland and Sweden (5 goals 6 assists in 25 games, also being the first woman to play on a men's team in a position other than goaltender.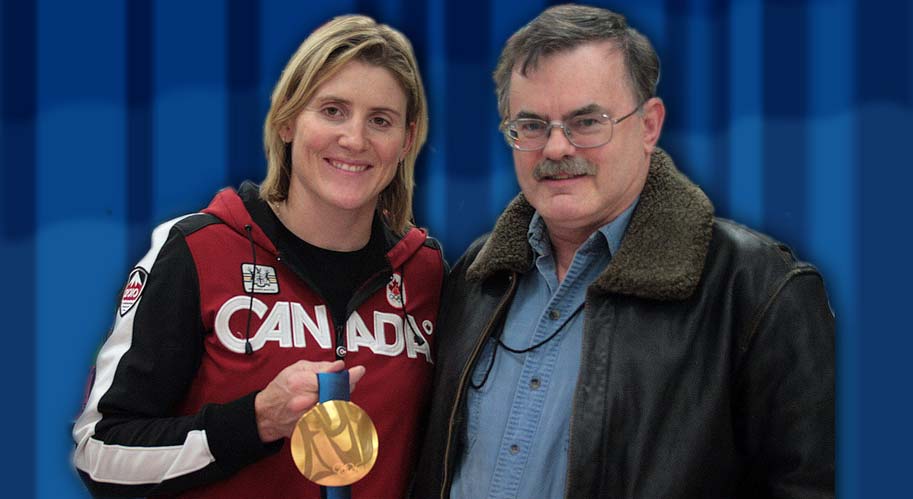 Hayley and owner/photographer of this web site, Allan Taylor, member of the design team for the Official Program for the 1988 Calgary Winter Olympics.
Note, my family lived in Shaunavon, SK where Hayley was born.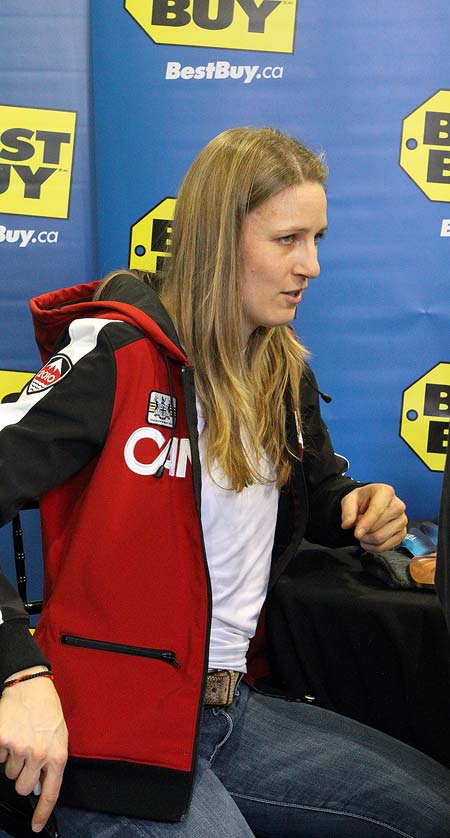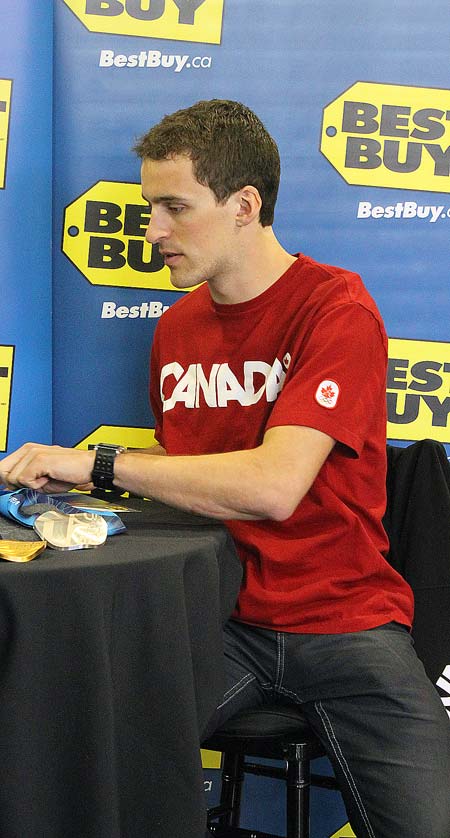 Short track speed skater Kristina Groves (b. Ottawa, ON), silver 1500 metres and bronze 3000 metres, also 4th in 1000 metres, 6th in 5000 metres and 5th in team pursuit.
Long track speed skater Denny Morrison (b. Chetwynd, BC), gold in men's team pursuit.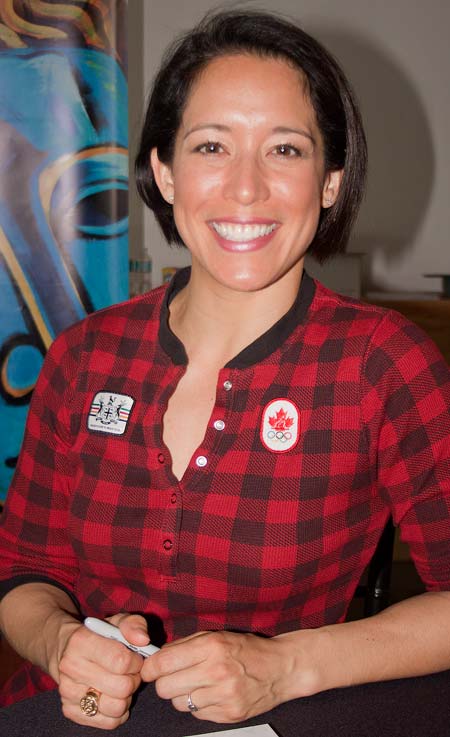 Alexia Loo (b. Richmond BC) 2010 Olympics: 12th Parallel Giant Slalom, ranked 4th in the World (May 2010) finished 20th 2006 Turin.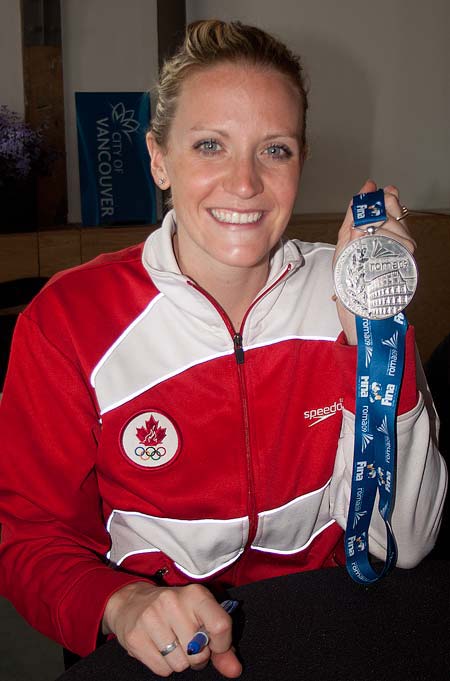 Annamay Pierse, (b. Toronto, ONT) 2008 Beijing 10th 100m breaststroke. 6th 200m breaststroke, 4x100 relay 7th. March 14 2009 at the 2009 World Aquatics Championships she broke the World Short Course record 200m breaststroke, she also broke the 200m long course record 200m breaststroke. She won the silver medal in the final.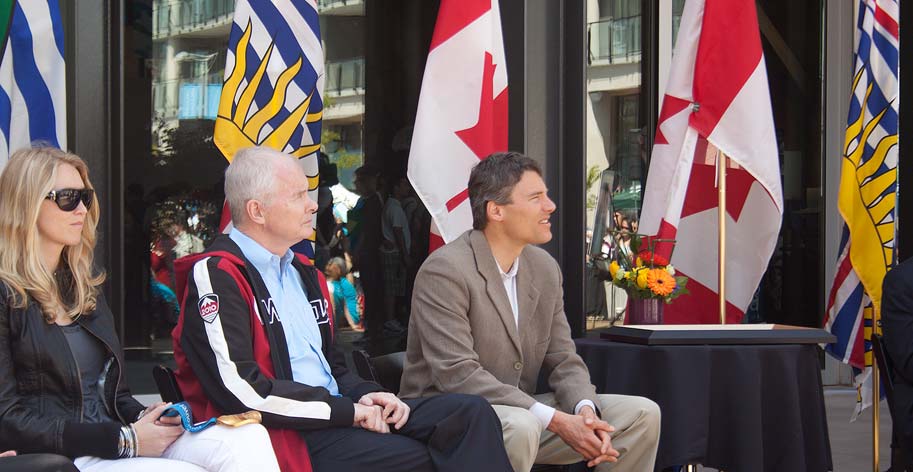 Left to right: Ashleigh McIvor, Gold medalist Women's Ski Cross, VANOC Chairman John Furlong and Vancouver Mayor Gregor Robertson as VANOC gives the Olympic Village back to Vancouver, Saturday, May 15, 2010.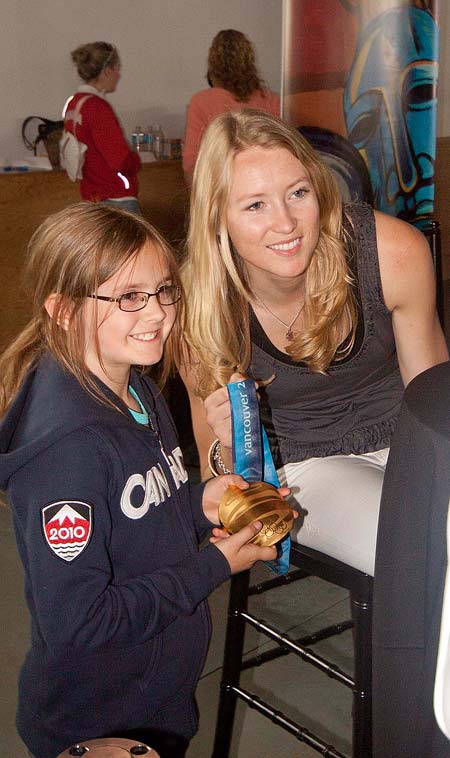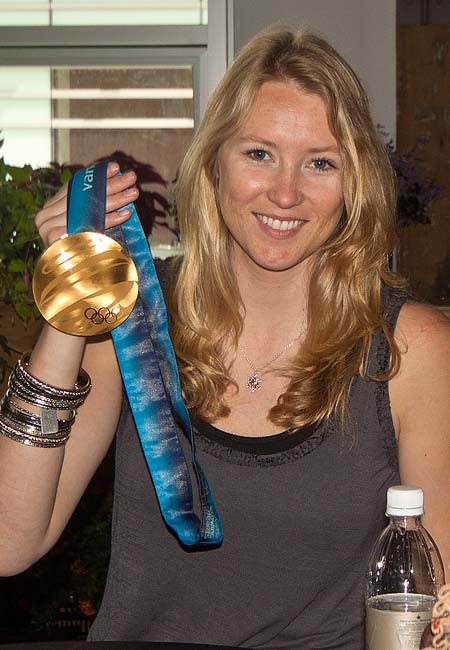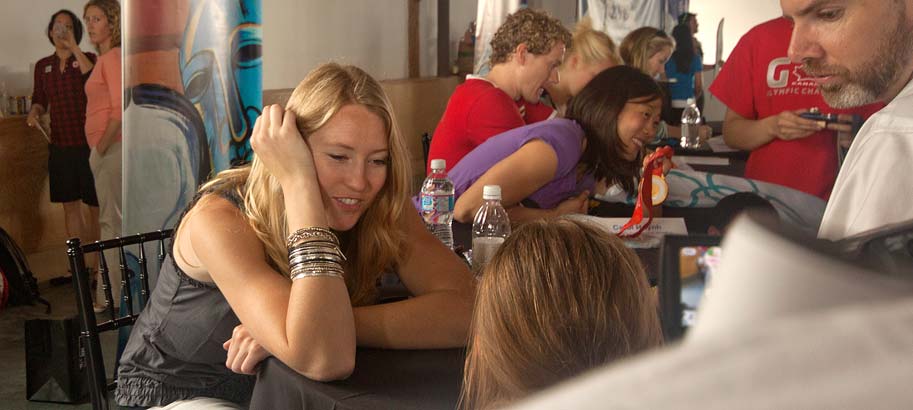 Ashleigh McIvor (b. Vancouver BC) 2009 World Ski Cross Champion 2010 Olympic Gold Women's Ski Cross.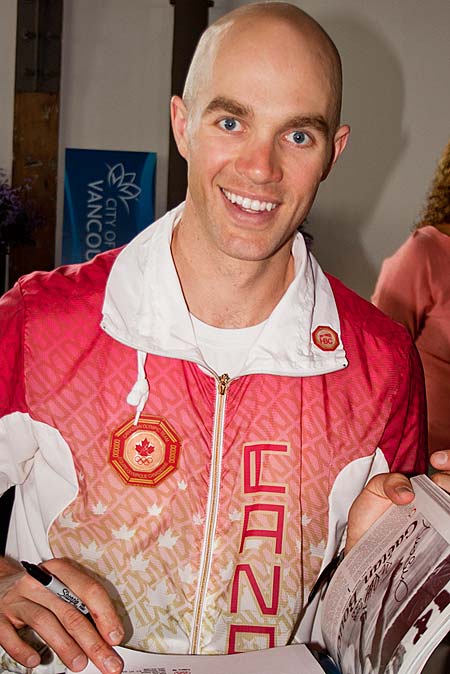 Ben Rutledge (b. Cranbrook BC) Men's 8's Rowing 5th 2004 Athens Olympics, Gold medal at the 2008 Summer Olympics in Beijing.
Carol Huynh (b. New Hazelton, BC) 2006 World Cup 48kg Freestyle Wrestling Silver, 2008 Beijing 48kg Freestyle Wrestling Gold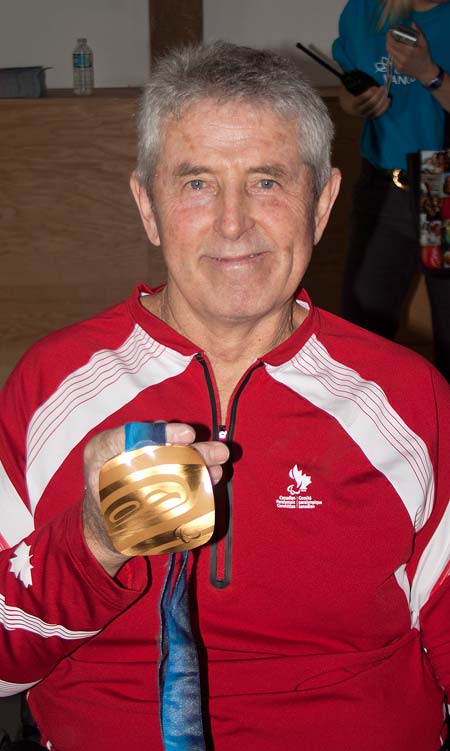 Darryl Neighbour (b Beaver Lodge AB) 2010 Paralympic Gold Mixed Curling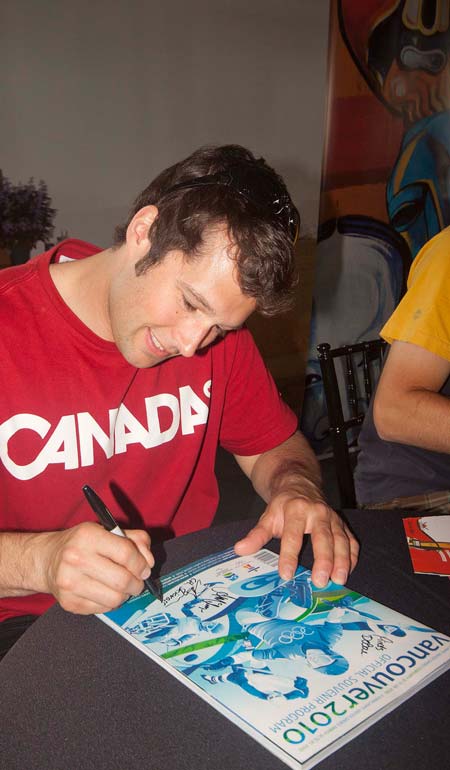 Davey Barr (b Vancouver BC)
2010 Olympics 6th Men's Ski Cross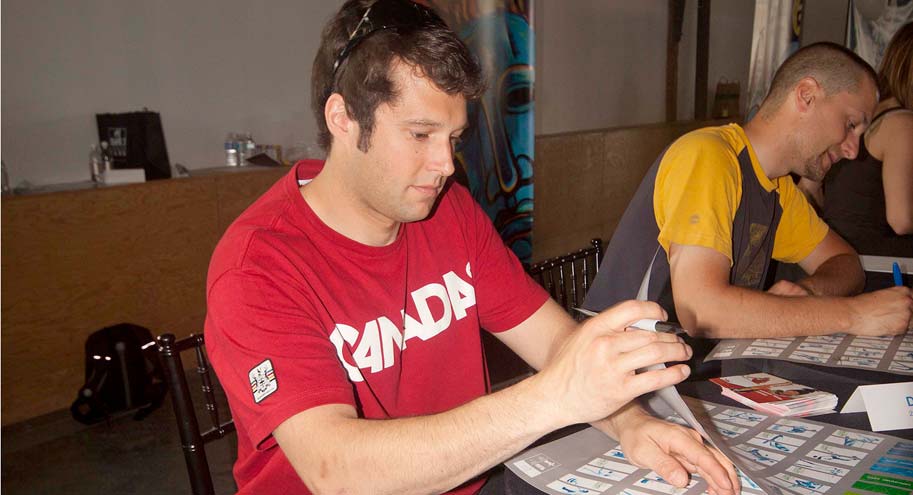 Davey Barr and Matt Hallatt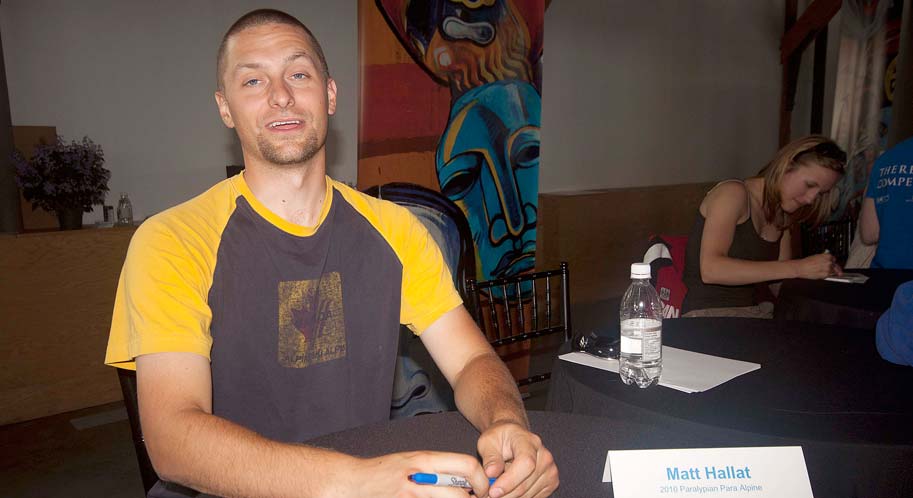 Matt Hallatt (b Vancouver BC) Paralympian 2006 Torino, 2010 Paralympics, Men's Downhill - Standing 11th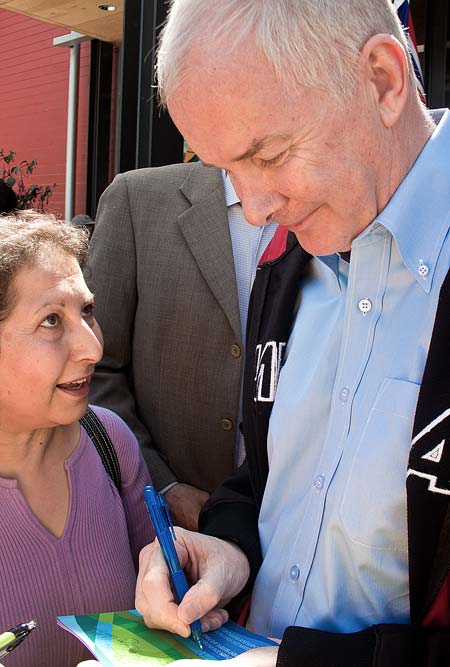 John Furlong, Chairman VANOC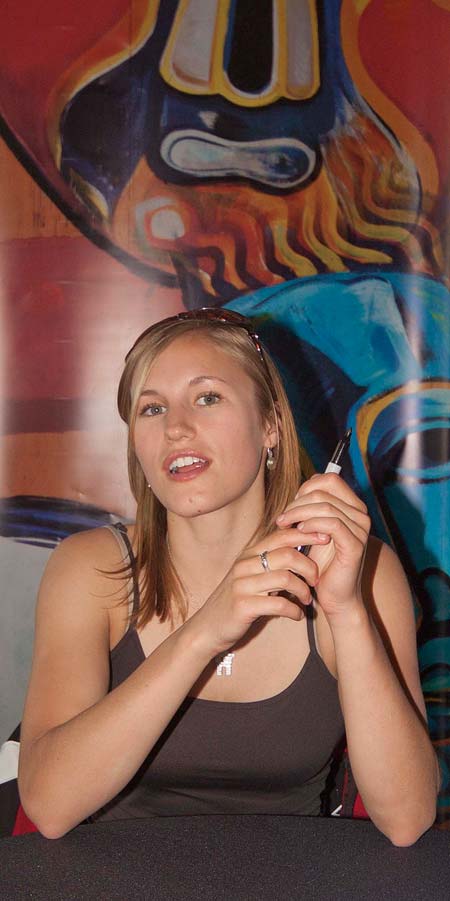 Julia Murray (b Vancouver)
2010 World Cup Ranking (May) 4th,
12th Women's Ski Cross 2010 Olympics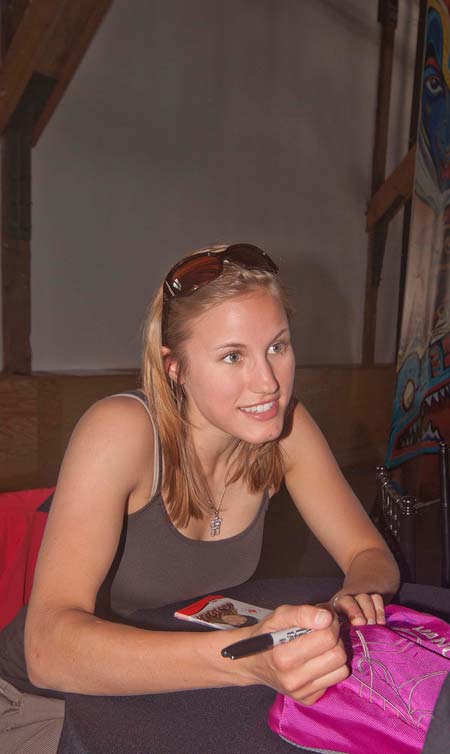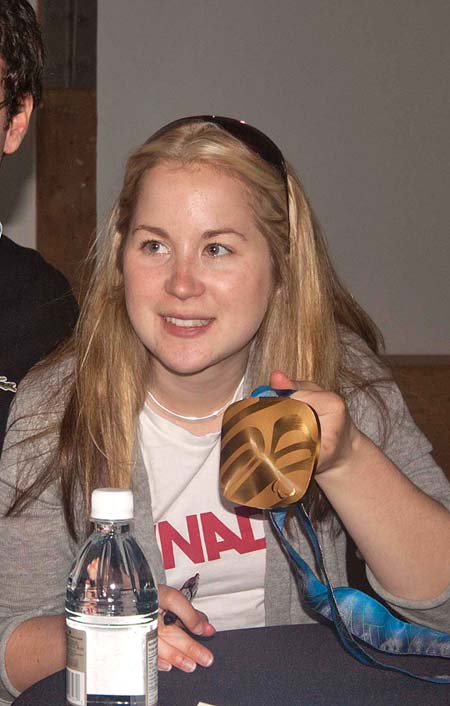 Lindsay DeBou (b. Whistler BC) Racing Guide for Viviane Forest (Visually impaired: Gold: Downhill Silver: Super G, Super Combined, Slalom and 4th Giant Slalom)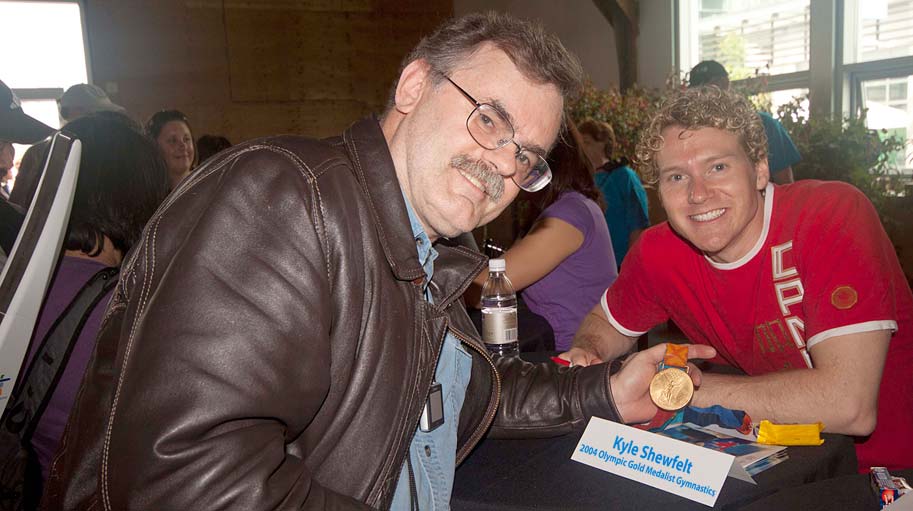 Kyle Shewfelt (b Calgary AB) Gymnastic Gold (Floor) 4th (Vault) 2004 Athens Olympics, Olympian 2008 Beijing Olympics after recovering from both legs being broken when he landed stiff legged on a layout Arabian double front on floor exercise.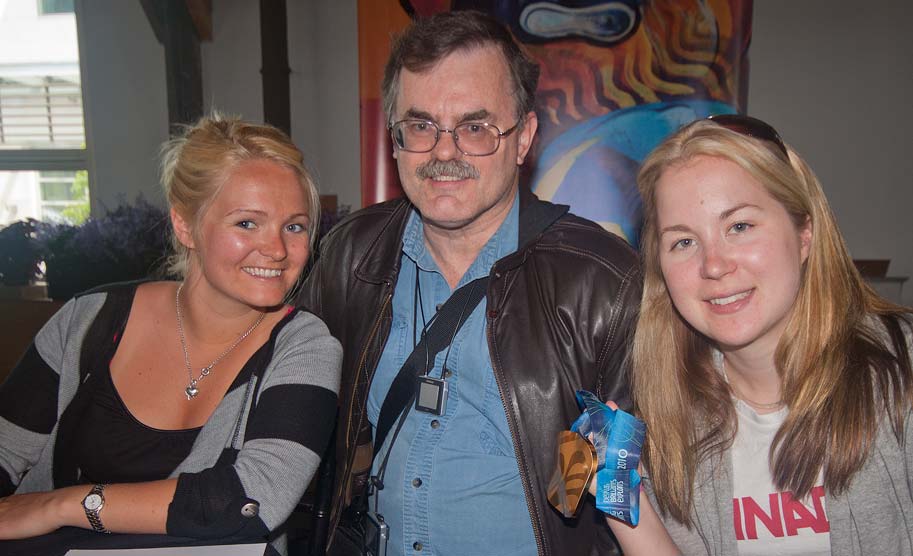 Left: Mercedes Nicoll (b North Vancouver BC) 6th Women's Half Pipe 2010 Olympics, that guy again and Lindsay DeBou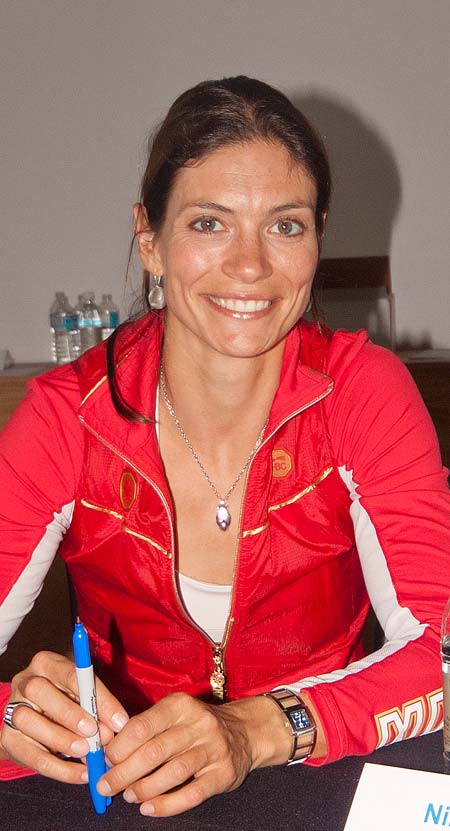 Nikola Girke (b West Vancouver BC) Olympian 2004 Athens - Sailing, 2008 Beijing - Windsurfing. Aiming to compete in 2012 London
Our Man in Motion, Rick Hansen (b. Port Alberni BC) Paralympian: 1980 Moscow (Gold 800m, Silver 1500m and Bronze 4x100m), 1984 Los Angeles, Cakifornia (Gold 1500m, Gold Marathon & Silver 5,000m), He also won 19 International Wheelchair Marathons and:
9 Gold medals, 9 Records, Pan American
Wheelchair Games, 1982
Silver medalist, Canadian Basketball Team,
Pan American Games, 1982
Outstanding Athlete of the Year,
Canadian Wheelchair Sports Association, 1980
Lou Marsh, Canada's Outstanding Athlete of the
Year Award; co-winner with Wayne Gretzky, 1983
Inducted into Canada's Sports Hall of Fame, 2006
Inducted into BC Sports Hall of Fame, 2007
6 National Wheelchair Basketball Championships
1976-1982, Vancouver Cablecars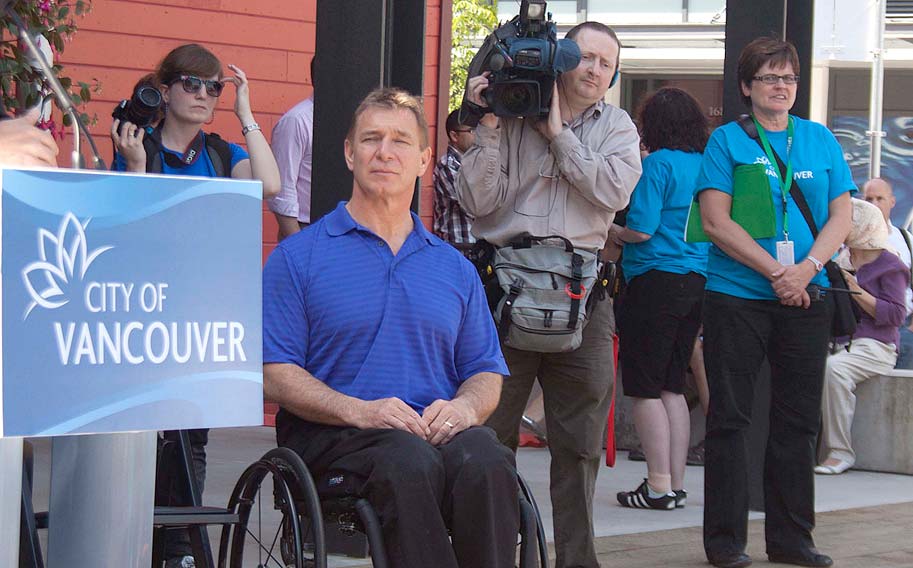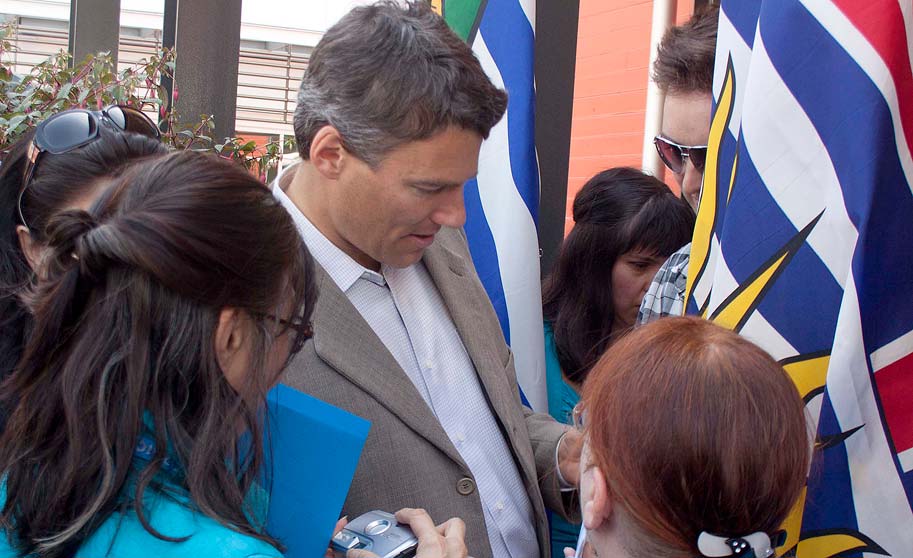 Vancouver Mayor Gregor Robertson.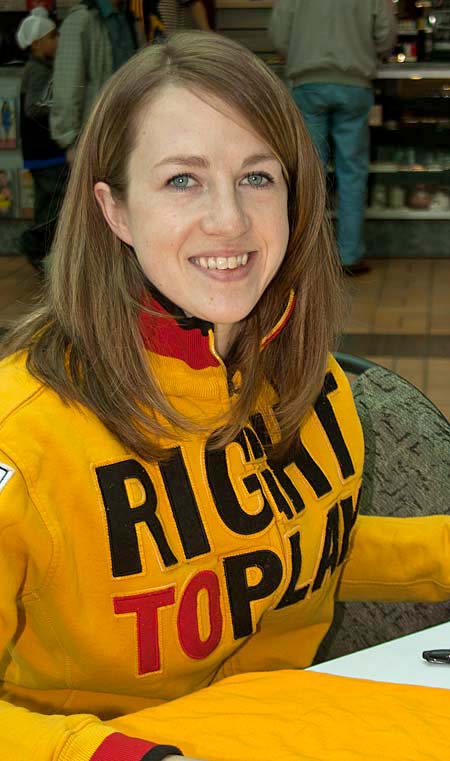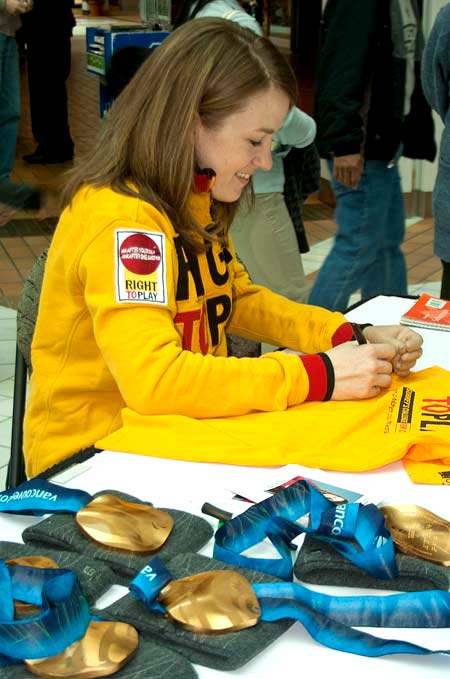 Lauren Woolstencroft, (b. Calgary, AB) Paralympian:
2002 Salt Lake: Super G Gold, Slalom Gold, Giant Slalom Bronze
2006 Turin: Giant Slalom Gold, Super G Silver
2010 Vancouver: Slalom Standing Gold, Giant Slalom Gold, Downhill - Standing Gold, Super G - Standing Gold, Super Combined - Standing Gold